A large area of BHE's work is on Unmanned Air-Vehicle engine or UAV engine design and development. From analysis and improvement of proprietary engines to design and development of completely new purpose designed power plants for advanced UAV programmes including future heavy fuel UAV Engines.
---
UNMANNED AIRCRAFT ENGINES
---
SPV580 Stepped piston charged UAV engine
Designed and developed under Ministry of Defence contract, this 580 cm3 four cylinder engine produces 35.4kW (47.5BHP) at 5250 RPM. The V4 configuration offers exceptional smoothness with NVH characteristics similar to a V8 four stroke engine. Gasoline and kerosene AVTUR / JET A-1 versions have been developed. The 30kW target performance was achieved with simple exhaust system and a very low engine mass of 18.2kg (air-cooled) or 18.5kg (liquid-cooled). The stepped piston engine offers a high durability two stroke engine solution overcoming the drawbacks of conventional crankcase scavenged engine types.
OBSERVER UAV
Copyright QinetiQ reproduced by kind permission of QinetiQ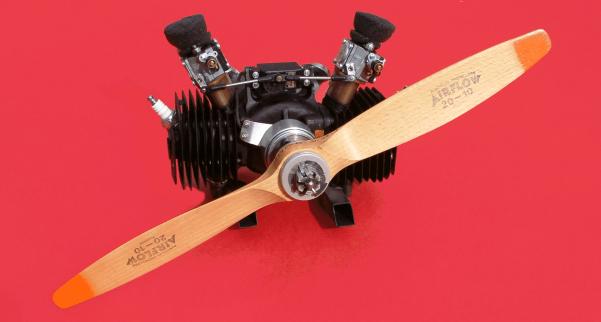 88-H Engine - The power plant selected for OBSERVER
The 88-H engine is an 88 cm3 horizontally opposed twin cylinder crankcase scavenged two stroke weighing 2.35kg and producing 4.7kW at 7500 RPM with a 20-12 propeller (max power is 4.85kW at 7800RPM with stub exhausts). Early versions of the engine were supplied for later Sprite unmanned helicopters as shown below.
Sprite Unmanned Helicopter
BERNARD HOOPER ENGINEERING LTD
For further information please enquire via the Contact us page of our website
© BERNARD HOOPER ENGINEERING LTD
---
<![if !supportEmptyParas]> <![endif]>
<![if !supportEmptyParas]> <![endif]>
<![if !supportEmptyParas]> <![endif]>