Engines have been designed and developed in 1, 2, 3 and 4 cylinder configurations in parallel inline, horizontally opposed flat twin, 90 degree V and opposed piston engine formats. Charge delivery via Loop or Uni-flow scavenging methods has been developed by extensive experience of successful two stroke engine research, design, development and manufacture together with further enhancement and optimisation with the assistance of in-house developed software.
---
INDUSTRIAL AND MARINE ENGINES
---
G290 Marine Generator
Designed as an advanced compact generator unit for application aboard marine power launches. This 290 cm3 twin cylinder stepped piston engine designed for operation with integral oil engine cooling to minimise marinisation costs produces 8.3kW at 3600 RPM (60Hz operation). The weight of the complete power unit including starter motor, flywheel, EFI and ignition system is 24.5kg. The stepped piston engine is well suited to combined heat and power (CHP) applications due to its inherent ability to operate on a wide range of fuels and elimination of valve-gear.
G8 Portable Fire-fighting Pump Unit
The G8 500 cm3 twin cylinder stepped piston engine shown above close up and operating under test pumping lake water at high pressure, was purpose designed with integral heat exchanger and fire proof alternator. A further requirement was the ability to start the engine by rewind starter with a fully discharged battery. The engine completed independent 200 hour testing by the customer at full power.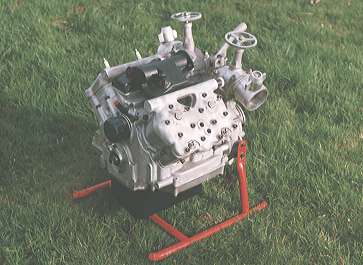 SPV1000HF Spark Ignition Heavy Fuel Engine
A 1000 cm3 V-4 cylinder fire pump has also been the subject of development. This project successfully investigated the feasibility of operation of this light weight (42kg) stepped piston engine on diesel fuel, thereby greatly improving Fire-Fighter safety, fuel storage and logistics in a light weight portable package.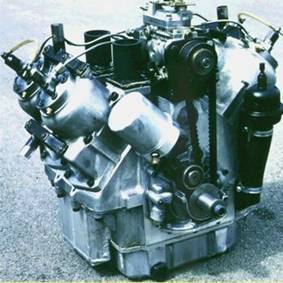 SPD1775 Compression ignition stepped piston diesel engine
Compression ignition diesel engines have also been developed despite problems securing adequate support for fuel injection technology. The advent of high pressure common rail systems are expected to allow these units to achieve exceptional performance and very low emission levels. A 1775 cm3 V-4 cylinder Industrial/Marine stepped piston diesel engine can be seen above.
BERNARD HOOPER ENGINEERING LTD
For further information please enquire via the Contact us page of our website
© BERNARD HOOPER ENGINEERING LTD
---
<![if !supportEmptyParas]> <![endif]>
<![if !supportEmptyParas]> <![endif]>
<![if !supportEmptyParas]> <![endif]>